Bio-Stream Diagnostics Inc. has developed a low-cost point-of-care biomarker detection platform designed to provide highly accurate test results that lead to faster diagnosis and treatment at lower costs. Based on organic-electro-chemical transistor (OECT) technology, this ultra-rapid testing platform will improve healthcare outcomes on a global scale.
Zero Point Cryogenics manufactures cryogenic equipment called dilution refrigerators, which are the primary low-temperature platform for quantum computers. The company is focused on designing robust and reliable dilution refrigerators to enable quantum technology research and innovation. ZPC is the only manufacturer of its kind in Canada and is working to support Canada's National Quantum Strategy.
I-STEAM Pathways is an experiential education program for Indigenous Students offered by the University of Alberta. This interdisciplinary program allows First Nations, Métis or Inuit students to gain research experience in environmental fields including science, engineering, education, and environmental law and policy.
The NXT-GEN Accelerator Program is a category-leading entrepreneurship program for students seeking to accelerate the growth of their business acumen, the development of innovation-driven enterprises, and connections with the technology community. With both academic and industry backing, NXT-GEN connects key ecosystem stakeholders with aspiring student entrepreneurs, bridging a key gap to bring a talent pipeline of the next generation of entrepreneurial leaders into the local ecosystem.
EnviroApps is helping the industry transition to digital shipping documents. Regulations require shipping documents to accompany dangerous goods and hazardous waste during their transport, however, when an emergency event occurs, Emergency Responders cannot access those paper documents from the Truck. EnviroApps is making lives better by improving safety, ensuring compliance, saving costs and making ESG data collection effortless.
Nanoprecise Sci Corp is an automated AI-based predictive maintenance solution provider that specializes in the implementation of Artificial Intelligence and Industrial IoT technology for predictive asset maintenance and condition monitoring. The AI-based solution offers real-time predictive information about the genuine health and performance of industrial assets. Nanoprecise works with customers across a wide range of industries to help them eliminate unplanned downtime & increase their overall operational productivity, and with NrgMonitorTM, it aims to accelerate its customers' journey towards net zero emission goals. Nanoprecise is headquartered in Edmonton, Canada, and works with companies across various sectors to help drive their Industry 4.0 journey.
Sarcomere Dynamics is bringing to market a near-human robotic hand. Weighing only 800 grams, with 19 degrees of freedom and generating over 2.25 kg of force at the fingertips, the ARTUS Dex is 80% lighter and over 200% stronger than the best robotic hand on the market today. Avtar's patent pending shape memory material actuators are at the heart of this accomplishment, with force to weight ratio an order of magnitude better than conventional actuators.
Check back as the list will be updated and new exhibitors announced
---
2022 Innovation Gallery and Company Showcase
Limited Space Available!
As we celebrate excellence in our province at the 2022 ASTech Awards, we aim to highlight some of Alberta's outstanding innovators and companies worthy of showcasing to our attendees. Think your innovation or company is an excellent candidate and want the opportunity to showcase to our audience? With limited space available, please fill out our Innovation and Company Showcase Waitlist Form to receive more information and for the chance to be one of our exhibitors at the 2022 ASTech Awards.
---
2019 NextGen Innovators Showcase
Sponsored by Corteva Agriscience, the 2019 Showcase features the agriculture value chain and other exhibitors who are diversifying the Alberta economy.
Agriculture exhibitors:
Corteva Granular: Software and data science for stronger businesses.
Corteva's Farming Simulator Game: Farm, breed livestock, grow crops and sell assets created from farming using Corteva featured products.
AgVisorPro: Connecting farmers and agriculture experts instantaneously.
Deepwater Farms: Calgary's first aquaponic closed-loop vertical farm, growing fresh leafy greens and sea bass.
Inner City Brewing: Amazing craft beer brewed in the heart of downtown Calgary from Alberta-grown barley, the best in the world.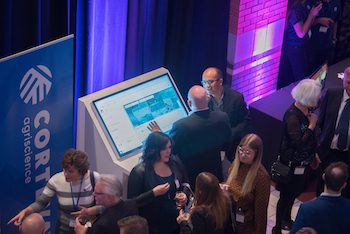 Other exhibitors include: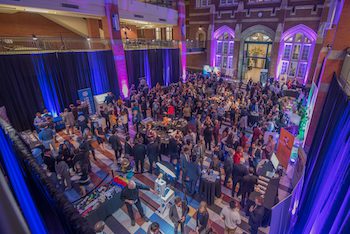 Chata.ai: Part virtual assistant, part business intelligence.
Clean O2 Carbon Capture Technologies Inc.: Reducing your carbon footprint with soap and recycled carbon dioxide.
Enable Community: Creating meaningful partnerships between people with disabilities and support workers based on shared interests.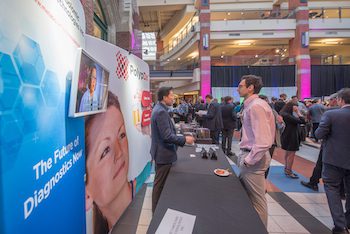 IronHub: Delivers service and technology to better capture, communicate and capitalize on your oilfield inventory.
Metabolomic Technologies Inc.: Innovative metabolomic-based diagnostics for the healthcare market. Saving lives through early detection.
Quebe: Environmental surveillance platform to reduce the cost of environmental compliance.
Red Deer College Drone Repeater/Flying WiFi Hotspot Capstone Project: A flying Wi-Fi drone that could provide connectivity for workers in remote areas, or search and rescue teams.
SAIT Centre for Innovation and Research in Unmanned Systems: Expanding the role unmanned systems play in data acquisition, management and organizational efficiencies across sectors and regulatory environments.
TELUS SmartHome Security: Monitor and control your home from anywhere.
TELUS LivingWell Companion: Living life on your terms.
2019 INVENTURE$ ASTech NextGen Innovators Showcase
The 2nd annual INVENTURE$ Conference in June 2019 saw an array of ASTech NextGen Innovator Showcase exhibitors connecting with more than 3,000 attendees.

Exhibitors included:
Amii, the Alberta Machine Intelligence Institute, and three of their embers companies Medo.ai, Mikata Health and SAMdesk.
BoxOfDocs, a curated library of industry specific non-proprietary content.
Cadeon, data analytics, data engineering and machine learning/Ai applications.
Chata.ai, part virtual assistant, part business intelligence.
Deepwater Farms, using a unique blend of technologies to produce specialty greens and fish.
Genecis, reprogramming bacteria to make premium materials from low-value organic waste.
Ingu Solutions, using miniaturized inline sensors to protect pipeline assets.
Lobo Developments, redefining affordable living spaces.
TERRAHUB, helping companies commercialize Blockchain and Artificial Intelligence ideas.
VizworX, providing highly advanced software solutions using AR, VR and AI.